Choose and Clues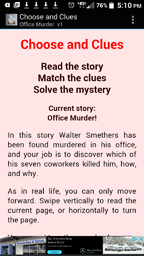 If you like choose your own path stories, then Choose and Clues is for you. In this Android app you are immersed in a mystery, and your job is to solve it by matching characteristics learned in the story to clues provided.

Eliminate suspects, methods, and motives as you control which way the story flows. Click the image to visit the app website, or the link below for Google Play.

Get app from Google Play Store
BaylaDex
Sometimes you just want quick access to your information, organized in a simple database on your phone or tablet.

With the BaylaDex you create content as text information and organize it into Items within Categories. You can also associate a photo on your phone or tablet with the text. Click image to visit the app website, or the link below for Google Play.


Get app from Google Play Store
Books from Bayla

Bayla strives to present the best in literary entertainment, whether it is technological fiction, office humor, or spicy romance.

Click on the cover within each book section to visit the detail page for each book, or click the link to go directly to the Kindle page.

Palm Sunday
In this techno-thriller, a hidden agency is secretly data mining all online communications to create a "societal profile".

This snapshot of the national conversation is the result of scooping up virtually everything communicated online by everyone. If you send it, they store it. Kindle $2.99

Official Guide to Office Wellness
100 office workers pose on, over, and in their desks and cubicles to demonstrate animal-inspired techniques designed to alleviate office maladies.

Winner of an IPPY for humor.

Gift one to your favorite office worker! Kindle $2.99

Secrets of a Massage Therapist
The mysterious world of massage therapy is the backdrop for this humorous and sizzling story of new love.

A professional massage therapist meets a mystery writer, and sparks fly as they are tested by dark characters in both their lives.

Caution: contains spice! Kindle $4.99

Kyuboria
Cubicle humor with a twist.

State worker Clint Palmer has spent far too much time in the box, and his cubicle weariness has now been honed to razor sharp indifference.

One day he learns of a grant that could fund his dream company, but to qualify he must get fired from the State. Kindle $2.99

Next Book Up
There are several ideas in the hopper, and some of them actually have been started.

The next book up will hopefully appear here in the near future.

We first must determine what 'near' means. Check back for updates...

Apps from Bayla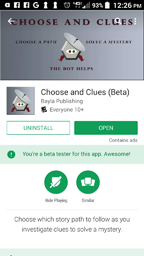 We currently develop apps for Android, and our offerings include the BaylaDex, and Choose and Clues.

Click on the cover within each app section to visit the detail page, or click the link to go directly to the Google Play Store page.
Choose and Clues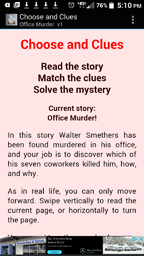 In this app you are immersed in a mystery, and your job is to solve it. By matching characteristics learned in the story to clues provided, you eliminate suspects, methods, and motives.

On the journey to a solution you control which way the story flows by choosing whether to jump to other characters as opportunities arise.
Get app from Google Play Store


The BaylaDex
Sometimes you just want access to plain text information organized in a simple database on your phone or tablet.

With the BaylaDex you create content as plain text information and organize it into Items within Categories. Click image to visit the app website.
Get app from Google Play Store


Next Up
Bayla is always considering the next idea for an entertaining or informative app.

Check back often for updates and information on the evolution of our app journey, and in the meantime enjoy the BaylaDex, and Choose and Clues. Tell others!


At Hubpages you can write articles for cash. For more info read the Blogging with Benefits hub.